Services
We will detail & check all structural steel & then issue for approval. All revisions, RFI's etc will be incorporated & we will also take care of any approval comments before the drawings are issued to the shop for fabrication. We can also detail any miscellaneous steel if necessary. Eg. Hand railing, stairs, lintels etc.
We issue drawings via FTP sites or email whichever is preferred. All our drawings are detailed using Auto-cad & also "X-Steel" from Tekla Structures, which is one of the leading 3D modeling systems available.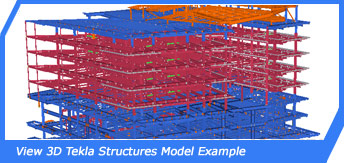 Please note the above 3D Tekla Structure model will open in a new window & requires Internet Explorer 6.0 (Windows version) or greater.